There is a new announcement from Microsoft concerning the Team Member Licensing, please feel free to send us your inquiry on the subject in case you need any clarifications.
Starting April 1st, 2020 team member license will lose access to their apps.
However, Microsoft has now revised its timeline whereby all existing customer instances impacted by this change, including users assigned the new Team Members SKU since 1 October 2018, will be granted an additional grace period until 30 June 2020.
New Change for Team Member Access:
Dynamics 365 for Sales
Dynamics 365 for Customer Service
Dynamics 365 for Project Service Automation
What's new?
The license enforcement will ensure that users with Team Member licenses can access only the designated app modules for Sales, Service, and Project Resource Hub.
License enforcement:
users with new Team Member licenses

Business value:
This licensing enforcement helps customers align with the Team Member license restrictions described in the Microsoft Dynamics 365 Licensing Guide.
Feature details:
For Team Member licenses purchased during or after October 2018, license-based access will restrict users to a set of designated app modules.
These users will no longer be able to access Customer Service Hub, Sales Hub, or custom app modules. The designated app modules are as follows:
Customer Service Team Member
Sales Team Member
Project Resource Hub
During the early access phase, users with Team Member licenses will be able to use the designated app modules mentioned above alongside all existing apps. Once license enforcement is turned on (starting April 1, 2020), unentitled apps such as Customer Service Hub, Sales Hub, and custom apps will not be accessible. Customers are advised to test their Team Member scenarios and migrate customizations to the designated app modules as needed.
Before general availability, customers can enable enforcement within specific environments to proactively preview full enforcement (that is, the scenario where non-designated app modules are blocked based on license entitlement).
NOTE This feature is available in the Unified Interface only.
The new sales team member app released in the wave 1 is specifically designed for user having team member license.
At a high level, users with the Team Member license can perform the following tasks:
In the Sales Team Member app:
Customer management: work with contacts or see accounts.
Lead and opportunity management: see leads or opportunities linked with accounts or contacts or see other sales-related data.
Add notes and activities, such as tasks.
In the customer service context, this app module enables the following limited set of use cases provided by the Team Member license for employee selfservice:
Create cases.
Read and update the cases that they created.
Search and view knowledge articles.
Access the Team Member App:
Users with the Team Member license can go to home.dynamics.com. They'll see the designated team member apps.

When users open the Sales Team Member app, in the site map, they'll see the available entities.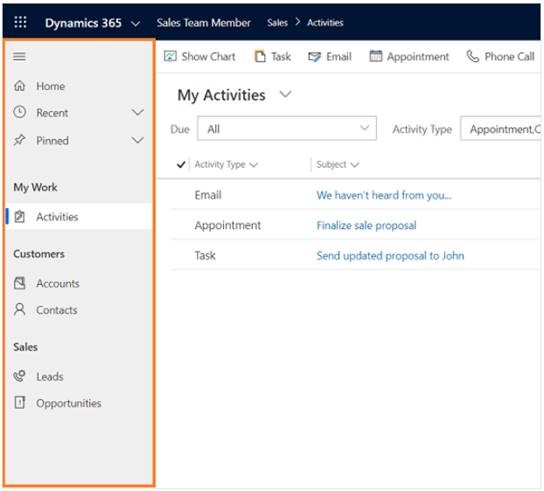 With the Project Resource Hub app, you can enter time and expenses for the projects you're working on the go. Stay on top of your time and expense entry to make sure:
Your clients are billed properly
You get credit for the work you've done
Select Project Resource Hub.