VMware is undergoing a business model transition from perpetual-license software to subscription and software as a service (SaaS). In addition, a proliferation of new technologies, high user expectations, globalization, and the need for business continuity are all key factors driving a digital transformation across our major functions.
To effect this transformation, they have strategically steered our digital initiatives to drive growth and operational scale — all while delivering delightful experiences to customers, partners, and colleagues (employees).
Preparation is key
The transformation journey began over a decade ago based on foundational decisions that would impact how we operate in the future. Agility and flexibility were critical. They made decisions to build a modern and scalable infrastructure embedded with security-by-design and to embody a customer-first mindset in the way they work.  This foundation enabled them to innovate faster and be responsive to their customers' dynamic needs.
The preparation focus was on three main areas:
Culture and finding innovative ways to strengthen connections amongst a distributed workforce.
Infrastructure and making early decisions that support a drive towards resiliency, security, and usability.
Experience and how to enable any device, anywhere
A journey of human experience
Providing a superb experience requires all parts of the transformation to be aligned. Therefore, they created a connected journey across five key areas—people, process, data, policy, and systems. It is the ability to connect these dots that have enabled them to drive a holistic business transformation.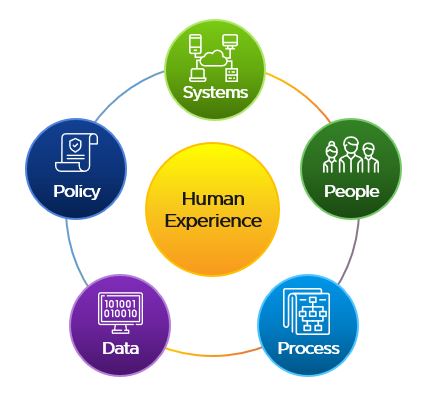 PEOPLE
A positive experience at every touchpoint, regardless of the stakeholder, is core to VMware's digital transformation. They are rewriting the rules of the enterprise by pursuing a human-centric approach to all our initiatives. After all, technology, processes, data, and policies are only as effective as the people who bring these components to life. That's why they established the VMware Digital Way, a modern approach to digital capability development.  This represents the ethos for how they—as individuals and as a team—operate to deliver delightful experiences at every level.
Cultural change, as always, starts at the top. This is the reason VMware management-led from the front in promoting a customer-first mindset. The voice of customers is constantly monitored and listened to via in-product customer feedback surveys, their Customer Advisory Board, Skyline proactive support, and other channels. For their colleagues, this means embracing lean development methodologies, a fail-fast philosophy, and an agile approach to delivering quality products regardless of the changing environment. In turn, VMware IT enables colleagues to enjoy an equally positive experience
PROCESS
Process transformation requires a major shift in the traditional enterprise mindset as practices—and even teams—are rationalized and modernized by breaking down existing silos. An example of this was the complete redesign of their New Service Introduction process that enabled them to reduce the cycle-time to launch new SaaS offerings by 33%[1].
DATA
Data transformation goes beyond collecting and storing data. It is about empowering their colleagues to operate with a data-driven mindset to produce actionable insights that can inform decision-making. And with this data, they can create a baseline of where we stand today and drive progress towards specific business outcomes. An example of this was automating the reporting of monthly and annual recurring revenue (MRR/ARR) and churn to help them dynamically monitor our SaaS business growth.
POLICY
VMware is on a relentless drive to reshape outdated policies that hinder speed and growth. This led them to create the SaaS Policy Board, an executive committee that met weekly and adhered to compressed decision-making timelines for a variety of policies impacting the SaaS business, covering areas such as renewals, sales compensation, and discounting.
SYSTEMS
To accelerate their digital transformation journey, VMware IT has had to deliver new capabilities in an accelerated timeframe while also improving performance and user experience. Their teams modernized several mission-critical applications by leveraging VMware IT's Chief Digital Transformation Office (CDTO) Modern Application Platform (MAP), powered by VMware Tanzu™.
One excellent example is the modernization of their My VMware portal (since then updated and rebranded as VMware Customer ConnectTM) used by millions of their customers to download software binaries, manage licenses, and request support. Modernization of My VMware delivered a 40 percent improvement in service response time[1], saved 1,000 person-hours in maintenance[2], and over 25 percent in annual license savings[3].
They continue to find ways to augment and deliver delightful experiences for our customers, partners, and colleagues. Equally important is their focus on enabling their customers to be future-ready. This means continuing to deliver products and services that provide flexibility and Intrinsic security so that their customers can continue to rely on them.
Contact us to learn more, we would love to hear from you