Customers can deploy cloud services on-premises and in multi-cloud environments—effectively modernizing in place by running Azure SQL on any infrastructure.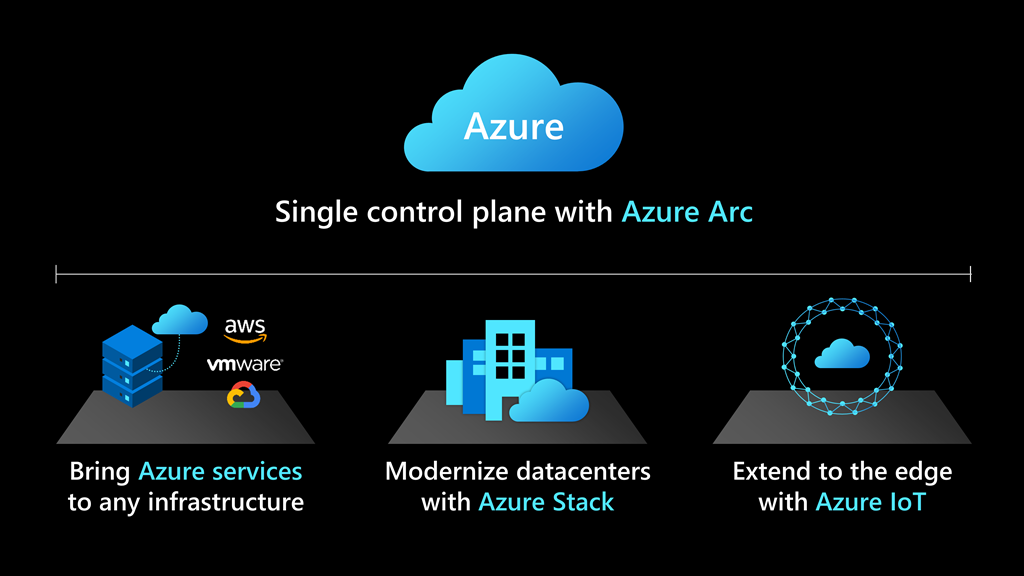 Cloud solutions that simplify the most complex hybrid data scenarios
Deploying cloud-based solutions to on-premises and multi-cloud environments helps deliver consistent, portable, and unified management across a company's entire data estate. Customers are seeing improved productivity and operating efficiency by using hybrid technology to manage their data and app development at scale.
For example, SKF provides reliable rotation to industries all over the world, offering products and services around the rotating shaft including bearings, seals, lubrication management, artificial intelligence, and wireless condition monitoring. SKF has been on a journey to digitally transform the company's backbone through harnessing the power of technology, interconnecting processes, streamlining operations, and delivering industry-leading digital products and services for customers. SKF uses Azure Arc, along with Azure Stack HCI and Azure SQL Edge, to scale solutions and standardize processes across their 91 manufacturing sites, resulting in 40 percent savings on hardware costs and 30 percent savings in OT-related machine downtime.
"SKF's focus is on digitalizing all segments of the value chain and interconnecting them to unlock the full potential of digital ways of working for our business and customers. Azure Arc-enabled SQL Managed Instance is providing us worry-free and always up-to-date SQL operations. These types of services provide us a tremendous jumpstart into digitalization."—Sven Vollbehr, Head of Digital Manufacturing, SKF
The "anywhere" solution for hybrid cloud applications
Beginning July 30, 2021, the general-purpose tier of Azure Arc-enabled SQL Managed Instance will be generally available, providing database-as-a-service (DBaaS) functionality on any infrastructure. Businesses will be able to deploy Azure SQL databases on any infrastructure and on any Kubernetes to:
Stay current with automated updates and deploy evergreen features and security updates to on-prem databases with no end-of-support.
Automate routine database administrator (DBA) tasks at scale with built-in management capabilities including high availability, backup, and restore.
Optimize data workload performance by bringing cloud elasticity on-premises for existing infrastructure, using only the resources needed to dynamically scale up, down, without application downtime.
Access Azure industry-leading security and governance capabilities for your on-premises data workloads using to protect your data.
New product features and capabilities will be rolled out on a continuous basis, and customers will be able to opt-in to preview additional Azure Arc-enabled services, such as PostgreSQL, and easily integrate as they become generally available. Additionally, customers will have the opportunity to test out future road map preview features and provide early feedback.
Develop breakthrough applications with our network of trusted partners
In support of Azure Arc-enabled data services' general availability, Microsoft is announcing an expanded network of trusted partners and validated solutions to help customers get started.
Microsoft works closely with technology providers to validate popular platforms to work with Azure Arc, and our many service providers are here to provide customers with the latest innovations for hybrid data solutions on-premises or in multi-cloud environments.
Whether you are just getting started with migration and modernization efforts or in the middle of a multi-year digital transformation, our consulting services partners can help you choose the validated infrastructures and applications that are specifically configured and tested to work with Azure Arc.
Get started with Azure Arc-enabled data services
Get started with Azure Arc-enabled data services available in preview today. Starting July 30, 2021, Azure Arc-enabled SQL Managed Instance (general-purpose tier) will be generally available for customers to optimize their data workloads from cloud to edge.
Contact us to learn more on [email protected]