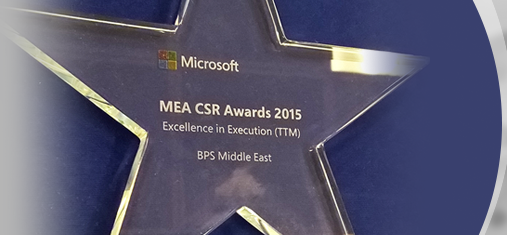 For the second time, Microsoft MEA Recognizes BPS on  14.10.2015 for "Excellence in Execution". BPS Middle East aggregate  and distribute the SPLA Program via a strong partner eco-system made of distinguished service providers since more than 9 years in the Middle East and North Africa.
The Microsoft SPLA Program allows Service Providers to license Microsoft software to offer a complete portfolio of services (partner hosted & managed services). With the Microsoft Services Provider License Agreement (SPLA), there are no upfront costs. You pay only for the access to the software you provide on a monthly basis; you have access to the latest versions of software; and you can sell your services worldwide. Microsoft SPLA is the only Microsoft Volume Licensing program that allows Microsoft products to be used for commercial hosting.
With the current demand for on premise managed services, partner hosted cloud services and service provider cloud solutions the SPLA program became a major component of every IT solution provided nowadays by major ISV's, Telco, datacenter & IT provider.
Our partners are and continue to be our reason for existence and their strategy shape our forward cloud strategy. BPS is continuously looking forward to develop further to be able to offer more cloud solution via our existing channel.
We will continue to focus on delivering the best service with one strategy in mind: enabling the channel service provider.
About BPS Middle East
BPS is a pure play service provider channel cloud distributor.  We offer multi-vendor cloud licensing solutions, Software Asset Management services, cloud technical advisory/services & cloud business development to service providers such as Telecommunication Companies, ISP's, Data Centers, System Integrators, Managed Services & Software Vendors.